Italy earthquake: Earthquake destroys buildings in Italy
Towns and villages in central Italy have been hit by an earthquake for the fourth time in three months.
The 6.6-magnitude quake - Italy's strongest in decades - struck close to the region where nearly 300 people were killed by a quake in August.
This time no-one appears to have died, but about 20 people were injured.
The medieval basilica of St Benedict in Norcia, the town closest to the epicentre, was among buildings destroyed.
An evacuation of buildings in the region deemed vulnerable to seismic activity last week, following strong aftershocks from August's quake, may have saved lives.
Tremors from this latest earthquake were felt in the capital Rome, where the Metro system was shut down, and as far away as Venice in the north.
Pope Francis mentioned the quake in his Sunday blessing in Rome's St Peter's Square.
"I'm praying for the injured and the families who have suffered the most damage, as well as for rescue and first-aid workers," he said to loud applause.
The earthquakes have left the residents of Norcia anxious and shattered. Stefano and his family have slept in a camper van since the first quake in August - they decided it was too dangerous to sleep indoors. He's now looking to get his family out of here.
In the hour after I arrived, there were two sizeable aftershocks - which sent bits of masonry from the town's ancient walls to the ground. The aftershocks added to the tension felt by residents here.
An emergency HQ has been set up in a car park. Civil protection officials are assessing the damage.
Next to a petrol station, there is a group of people with their bags packed, ready to leave. They don't want to wait for another quake to hit.
Giuseppe Pezzanesi, mayor of Tolentino in the neighbouring Marche region, said the small town had "suffered our blackest day yet".
"The damage is irreparable. There are thousands of people in the streets, terrified, crying. Let's hope that is an end to it, the people are on their knees psychologically."
The towns of Castelsantangelo and Preci have also suffered considerable damage, but were mainly abandoned after last week's quakes, of magnitude 5.5 and 6.1.
Castelsantangelo's mayor, quoted by La Stampa newspaper, said there were no casualties at all in the town as "everyone had already left".
The mayors of the villages of Ussita and Arquata said many buildings had collapsed there too.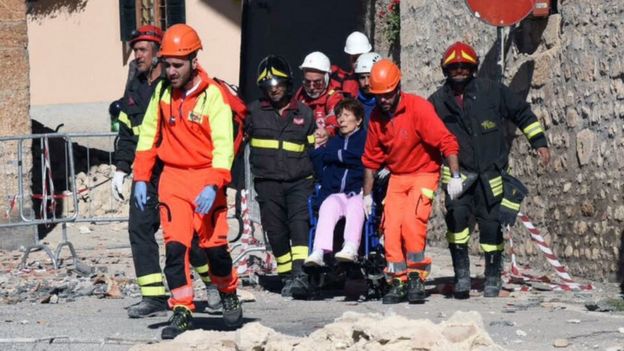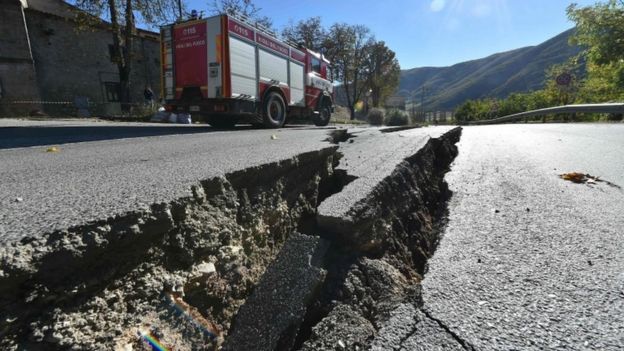 Italy earthquake: Earthquake destroys buildings in Italy
Reviewed by
True NewsBlog
on
Sunday, October 30, 2016
Rating: